I had this posted on the Indian forums in the FTR section but without asking if I wanted to be a 'vendor' they deleted the post.
SO here we go! I have established a connection with Titax Wheels and they are ready to start building 17" wheels for the FTR!
3.5 front and 5.5 rear, ETA is August, so I am trying to get my initial group buy set up.
These wheels will be ready to mount with the bearings, spacers, and sprocket carrier and set up for the OEM brake discs.
REAR SPROCKET OPTIONS
The sprocket is the same as Marchesini or BST are using.
You can use the following sprockets.
CHIARAVALLI:
2067 520 chain
2094 525 chain
2105 530 chain
AFAM 520 chain: 93622
RENTHAL 520 chain: 397U-520-36P-HA
VORTEX 520 chain: 840 AZK
Or the alternatives in 525 and 530 as well.
Dimensions:
Inside diameter: 76mm
Pitch circle diameter: 100mm
5 holes for the screws size M10
They use SKF bearings - the same as used on MOTO 2 bikes.
Stainless hardware
Wheels are powder coated standard colors...
Gloss Black, Matte Black, Silver,
Translucent colors, Blue, Gold, and Red
There are options but would prefer to keep the initial order to standard colors and options
Options include, ceramic bearings, Titanium hardware, or custom colors.
Now the down n dirty,
Retail for a set is $1895.
I am going to offer the first 6-10 buyers that can pre pay, special pricing and free ship to Lower 48 USA.
interested parties can contact me at
[email protected]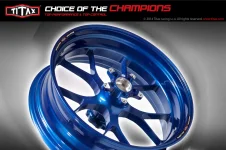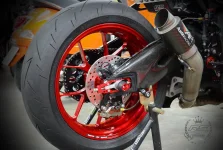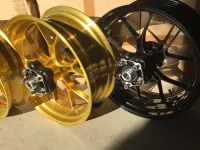 Last edited: